A landmark headquarters, connected to the city
For the headquarters of its new cloud technology company, the construction equipment manufacturing company Sany engaged SOM to make a bold architectural statement. The two towers of the complex are united by a striking structural design: an external system of five-story steel columns rising in a diamond grid pattern. The structural design is as beautiful as it is efficient—it allows the floors to be suspended from the structure, eliminating the need for cumbersome interior columns. Landscaped terraces punctuate the towers at five-floor intervals.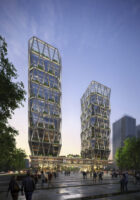 Located at the center of Guangzhou's Pazhou business district, the towers are envisioned as an emblem for the company's growth and innovation. The design team gave just as much attention to the space surrounding the towers. Rather than a typical solid podium base, an elevated podium bridges the two buildings, allowing the ground between them to become an inviting public plaza and gardens. In addition to escalators, stairs, and a public elevator that connects to a citywide system of covered walkways, visitors can reach the elevated podium via a pedestrian bridge from an adjacent park.