More than a headquarters
With its distinctive design, retail and social amenities, transit connections, and Class A office spaces, Poly Corporation Headquarters is designed as exceptional place to work. The wide spans optimize office layouts, while maintaining access to natural light. With its strong architectural presence, efficiency, and flexibility, the building set the tone for future develop­ments south of the site.
The stone-clad building's triangular form minimizes the perimeter exposure to the elements, while interior atria give office areas maximum access to daylight. The resulting L-shaped office plan cradles the main atrium and enhances a sense of community by allowing office workers to see into other areas of the building. The northeast orientation also responds to the region's cold climate by providing greater access to direct natural daylight.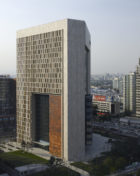 The building also houses the Poly Museum, whose mission is to repatriate China's cultural antiquities. The museum is contained within an eight-story "hanging lantern" that is suspended from the building's atrium via four parallel strand bridge cables. Its crystalline surface of patterned glass is pleated to increase its light-reflecting and refracting qualities. Within the museum, bronze walls enclose exhibition spaces.
---