A Distinctive Structural Expression
The design of Cayan Tower, a helical skyscraper that marks the Dubai skyline, is at once remarkable and subtle. The residential tower is a pure expression of the idea that a building's form should directly follow its structural framework.
While the skyscraper's floor plates are all identical, each is slightly rotated against the story below it, producing a full 90-degree twist over the course of the tower's 307-meter rise. The benefits of this unique form, besides the aesthetic ones, are manifold. Wind load and solar heat gain are reduced compared to a rectilinear building of the same height, and a greater number of tenants are afforded desirable views of the nearby marina and gulf.
Positioned perpendicular to the sea, the tower is carefully configured to provide excellent views from every level, while preserving waterfront views for residents of neighboring buildings. It meets the marina at street level with retail and an arcade that is part of a continuous promenade along the waterfront.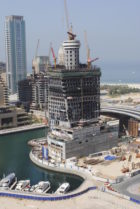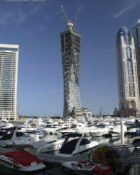 ---