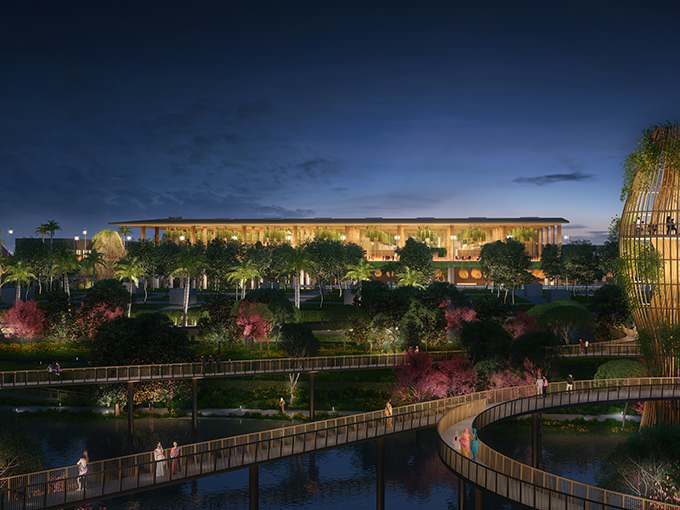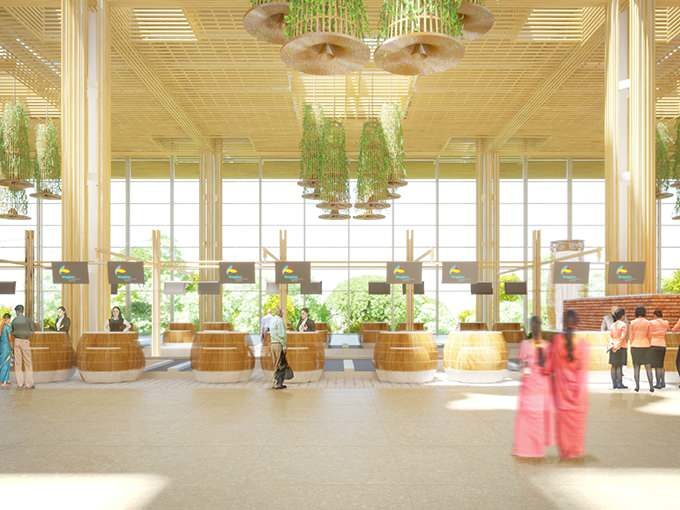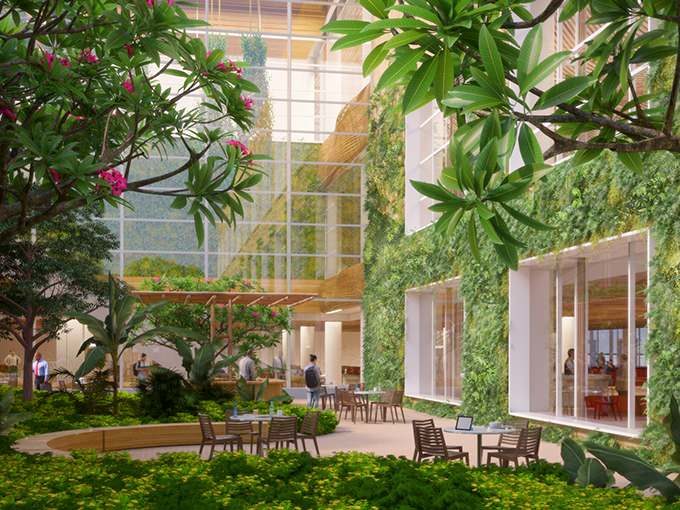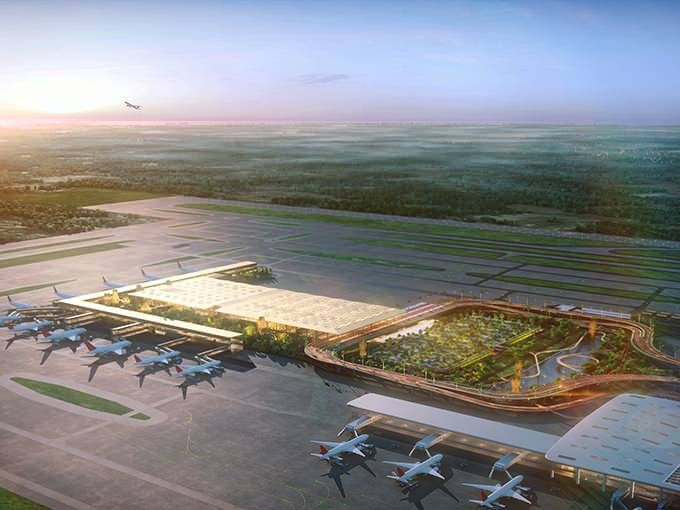 Today, Bengaluru International Airport Limited (BIAL) unveiled the design for Kempegowda International Airport Bengaluru (BLR Airport) Terminal 2, a new air travel hub in Bengaluru, India that reimagines the airport as a landscaped and serene transportation experience. Conceived by BIAL to be a terminal within a garden, and designed by Skidmore, Owings & Merrill LLP (SOM), the project's first phase of construction is scheduled to be completed by March 2021 and is anticipated to serve 25 million passengers per year.
"Terminal 2 is dedicated to the beautiful city of Bengaluru," said Hari Marar, MD & CEO of BIAL. "Designed as a reflection of this city, it is founded on four pillars: technological leadership, the idea of a terminal in a garden, environmental and ecological stewardship, and a celebration of Karnataka's rich heritage and culture. Together with SOM, we have created an iconic new terminal Bengaluru can truly be proud of."
Every passageway throughout Terminal 2, which will reach about 255,000 square meters upon the completion of the first planned phase of construction, will connect travelers with nature. Trees, small gardens, and ponds featuring local and exotic species of plants will line the interior. Planted bells will hang from the ceiling at the entrance, check-in, and security. Just beyond these spaces, a large indoor garden featuring rammed-earth walls and waterfalls will provide a gateway into the densely-landscaped retail space. The shopping area will then connect to the gates through Terminal 2's signature space—a vast, three-story "forest belt" designed to create an immersive, calming outdoor experience for departing and arriving passengers alike. From entrance to concourse, and from arrival gate to baggage claim, all main indoor spaces will display views of the forest belt. The material palette for each of these indoor areas is designed to work in concert with the natural landscape: the walls will be made of brick, the floors will be covered in natural terrazzo, and the ceiling will be finished in engineered bamboo.
"For decades," said SOM Managing Partner Laura Ettelman, "air travel has been a generic experience across the world, with terminal designs that seal the passenger off from the outside. For Terminal 2, SOM's design inverts every expectation of how an airport can look and feel. With a focus on the passenger, we have created a rich, sensory experience."
The design is inspired by Bengaluru's history as a "Garden City." Recalling Bengaluru's expansive parks and plantings, an element that has declined due to urbanization, the landscape design serves as an opportunity to revitalize the city's historic sense of place and establish a new vision for sustainable growth. At the same time, the design aligns with Bengaluru's emerging role as a capital for technological innovation. SOM's plan is designed with flexibility for the future integration of cutting-edge tools that will support vital airport functions.
Terminal 2 leverages its extensive landscape design to support the project's ambitious sustainability goals. The abundant vegetation complements the mechanical system to purify the air and serve as a natural means of counteracting carbon emissions. The planned building enclosure uses high performance glazing and carefully calibrated shading to temper natural light, which sustains interior plantings and minimizes reliance on artificial illumination. Outside Terminal 2, another expansive garden will be arrayed around a large lagoon to provide a nursery for maintaining the terminal's plant life, while also creating a dramatic visual impression for arriving travelers. Elevated walkways will thread through this outdoor garden, linking a series of public pavilions and connecting to both Terminal 1 and the airport hotel. The lagoon will capture rainwater for reuse in graywater processes, including cooling and irrigation. More importantly, the exterior space completes SOM's design of a terminal in a garden.
"Terminal 2 will stand apart from every other airport in the world," said SOM Director Peter Lefkovits. "The orchestration of every component—both natural and man-made—creates a passenger experience that we hope will set a precedent for the future of airport design."
About Skidmore, Owings & Merrill LLP
Skidmore, Owings & Merrill LLP (SOM) is one of the leading architecture, interior design, engineering, and urban planning firms in the world. Since its founding more than 80 years ago, SOM has earned a reputation for design excellence with a portfolio that includes some of the most important architectural accomplishments of the 20th and 21st centuries, and has been a leader in the research and development of specialized technologies, new processes and innovative ideas, many of which have had a palpable and lasting impact on the design profession and the physical environment. The firm's longstanding leadership in design and building technology has been honored with nearly 2,000 awards for quality, innovation, and management. The American Institute of Architects has recognized SOM twice with its highest honor, the Architecture Firm Award—in 1962 and again in 1996. The firm maintains offices in New York, Chicago, San Francisco, Los Angeles, Washington, D.C., Seattle, London, Hong Kong, Shanghai, Dubai, and Mumbai.