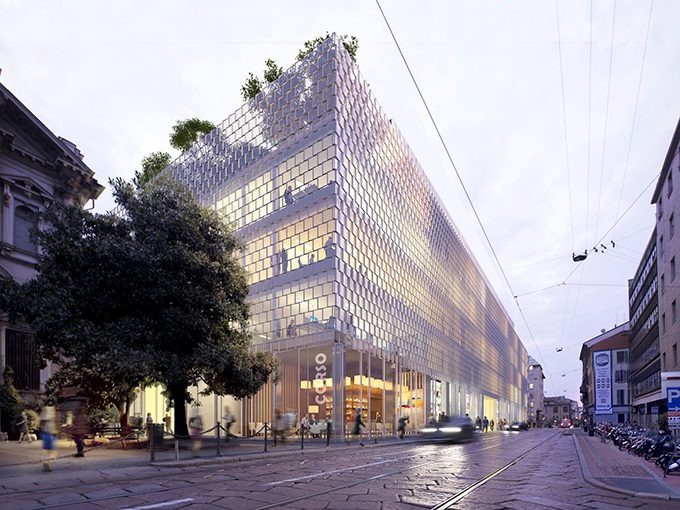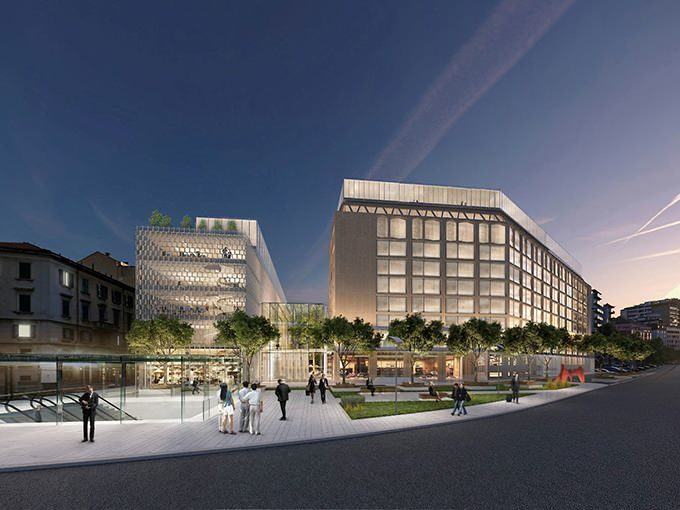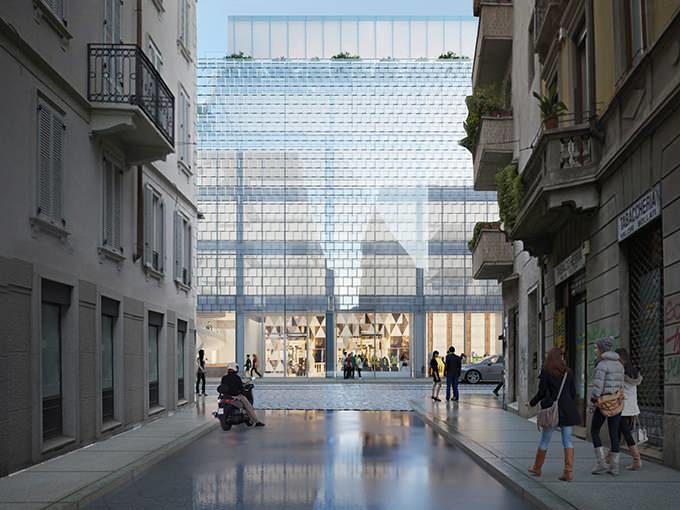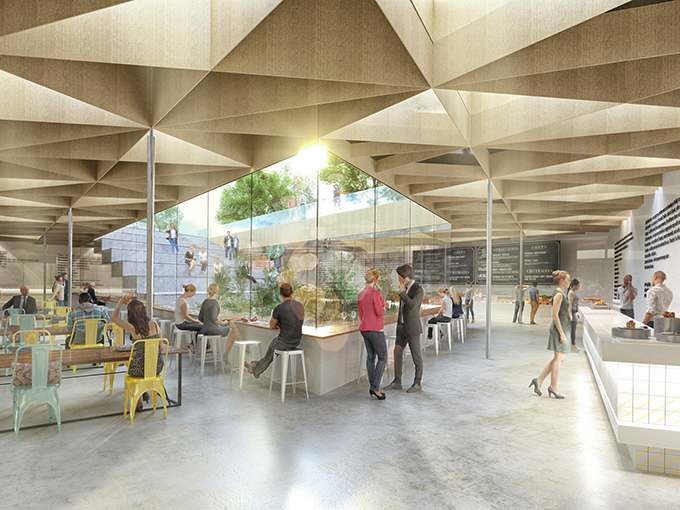 On October 3rd, 2019, a public exhibition opens at the construction site of Corso Italia 23, presenting SOM's and Allianz Real Estate's vision for this historic office complex at the heart of Milan. Originally designed in the early 1960s by architects Gio Ponti, Piero Portaluppi, and Antonio Fornaroli as the Milan headquarters of Allianz S.p.A., the 45,000-square-meter complex will be transformed from an insular single-tenant headquarters into a vibrant office campus that represents the future of the workplace. SOM's design employs the most advanced sustainability, flexibility, wellbeing, and smart building concepts, while respecting and maintaining a dialogue with the original design.
"Corso Italia 23 is a great opportunity to reposition Gio Ponti's headquarters building and integrate it into the heart of Milan," says Kent Jackson, design partner for the project. "We were also happy that Allianz chose to approach this as an adaptive reuse project, significantly reducing our carbon footprint and embodied energy."
The project takes an "inside-out" approach, providing flexible and adaptable office space supported by a robust program of amenities that meet the demands of contemporary users.
Central hub spaces connect the office floors vertically, offering tenants a range of common areas. Meeting spaces, phone rooms and lounge areas provide the background for collaboration and the serendipitous interactions which lead to new ideas.
Providing inspirational outdoor spaces is another key component to addressing health and wellbeing in the workplace. A redesigned courtyard forms the heart of the Corso Italia 23 campus. New rooftop gardens and terraces provide tenants with a retreat from the activity below on the street, with stunning views above Milan.
"We are delighted with SOM's designs for Corso Italia 23. With a focus on innovation and sustainability, we see this redevelopment as building on and enhancing Gio Ponti's original design intent and creating a truly aspirational workplace campus for today and the future," said Alexander Gebauer, CEO West Europe, Allianz Real Estate.
The project includes a full-service conference center with a 200-seat auditorium to facilitate large meetings and seminars. With a fully integrated audio-visual fit out and specialty lighting, the auditorium can also serve as a performance space.
Embracing all aspects of sustainability and wellbeing, the building aspires to achieve both LEED® Gold and WELL Gold certification. 
Yasemin Kologlu, design director for the project, states: "At SOM, we share the belief that sustainability is not only about resource efficiency and operational costs, but also encompasses proactive design solutions that support users' health and wellbeing."
SOM's design for the former Allianz Headquarters realizes a historic opportunity to reinvigorate the Corso Italia area as a new workplace district for the city, cementing Milan as one of the most vibrant metropolises in Europe and catalyzing future development.
Exhibition: "Corso Italia 23 — Lavori in Corso"
Corso Italia 23, Milan
October 3 – 6, 2019
Thursday to Saturday from noon to 7:00 p.m.
Sunday from noon to 9:00 p.m.
About Skidmore, Owings & Merrill (Europe) LLP
Skidmore, Owings & Merrill (SOM) is an influential collective of architects, designers, engineers and planners, responsible for some of the world's most technically and environmentally advanced buildings, and significant public spaces. From a strategic regional plan to a single piece of furniture, SOM's designs anticipate change in the way we live, work and communicate, and have brought lasting value to communities around the world. The firm's approach is highly collaborative, and its interdisciplinary team is engaged on a wide range of international projects, with creative studios based across the globe.