In its December issue, titled "Engineering Art," the Japanese publication A+U Magazine explores the role that engineers can play in realizing works of art and the possibilities that these collaborations create. Connections between the two disciplines illustrate a role for the engineer that goes beyond execution, "shaping a process that modifies the project itself," guest editor Guy Nordenson writes. The issue presents examples of such transformative collaborations dating from the 1960s to the present, with in-depth stories on five artworks that SOM engineers have helped to create.
An essay authored by SOM engineers Mark Sarkisian, Bill Baker, and Alessandro Beghini reflects on their ongoing collaboration with artist Janet Echelman, who refers to her work as a "team sport." Since 2014, the group has collectively explored the complexities of net structures, and developed new techniques in form-finding, dimensioning and detailing of the material's various splice conditions. The authors note that "Echelman was looking for input from SOM's structural engineers regarding the possible geometry of a structural net," which in turn, allowed them to draw connections between her ideas and research that was being conducted at the firm. Their ongoing collaboration is "a true reflection of what art and engineering can create when woven together."

The wide range of possibilities is well represented in a feature on "Everywhere The Edges," an artwork that is both a sculpture and a performance. A collaboration between Echelman and choreographer Rebecca Lazier, the hour-long performance challenges highly skilled dancers to navigate varying levels of instability across three tiers of colored nets. Designed and tested with SOM Consulting Partner Bill Baker and Princeton University professor Sigrid Adriaenssens, the work "synthesizes experimental dance, avant-garde circus, music, engineering, art installation, public sculpture and social practice."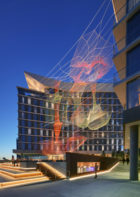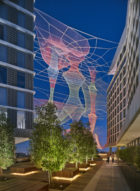 Another Echelman artwork, titled "Dream Catcher," hovers between two buildings of an SOM-designed boutique hotel on Sunset Boulevard in Los Angeles. Developed in collaboration with SOM Partner Mark Sarkisian, the 90-foot-tall piece represents a departure from the artist's previous drape nets, opting instead for tension cables integrated seamlessly with the building's floorplates. The article describes the work as having "transformed the open space between two buildings into a dynamic, translucent work of art. The art and structure are inseparable."
The issue also presents SOM's historic collaboration with Pablo Picasso to produce the 50-foot-tall sculpture that stands in Chicago's Daley Plaza. SOM Partner William Hartmann visited the artist in France several times, ultimately returning with a 42-inch model of the proposed sculpture. Working with SOM engineers Fazlur Khan and Joseph Colaco, "SOM translated the work into a monumental sculpture" with "some artist-approved modifications [that] were needed to resist Chicago's wind loads."

For a 2009 exhibition at MASS MoCA, Bill Baker worked with artist Iñigo Manglano-Ovalle to engineer a house turned upside down. The installation, titled "Gravity is a Force to be Reckoned With," reinterprets the work of Ludwig Mies van der Rohe in a way that "creates a shift of perception, transforming the world as we know it." 
Purchase your copy of A+U's "Engineering Art" issue here.