Working with a team of local and international architecture and landscape architecture firms, SOM led the design of a 16-hectare master plan in the heart of Bangkok. One of Thailand's largest private-sector developments, One Bangkok will tie together Wireless Road, a leafy, active pedestrian road dotted with embassies, hotels, and bustling restaurants; Sathorn Road, a major commercial street; and Rama IV, one of Bangkok's major thoroughfares and an axis for future development to the East. Located at the intersection of these three major roads, and overlooking Lumphini Park — the city's "Central Park" — One Bangkok introduces an extensive collection of residential, hotel, retail, office, and public spaces to the city center.

SOM's plan establishes a vertical village designed to foster community and promote wellbeing in a dense urban environment. Welcoming streetscapes will create a sense of place, encouraging visitors to return, while a wide range of outdoor spaces, including eight hectares of public plazas and landscaped green space, will form a new center of social life in the city.
One Bangkok is the first project in Thailand to target LEED Platinum certification for Neighborhood Development. Its architecture and landscape respond to the tropical climate and ecology, employing a range of sustainable design approaches and technologies to significantly reduce energy expenditure, water use, and carbon impact.
Regionally-informed ecological design
Taking cues from the regional architecture, the design team addressed the tropical climate and sudden intense rainstorms by creating protected and open-air spaces to take advantage of breezes while providing cover from the sun and rain. The design includes tightly spaced buildings and alleys that shade one another, open-air porches, and covered streets.
In establishing the master plan, SOM required that each of the buildings in the district adopt these strategies — shading, porches, terraces, deep overhangs — to blur the distinction between interior and exterior spaces and make the experience unique to this place and its climate.
---
Strategies for energy and water efficiency
The master plan centralizes energy and water-management systems to optimize efficiency and anticipate future growth. In addition to the use of shading and high-performance exterior wall systems, the district is powered by a centralized energy core that serves all of its buildings, allowing for a much higher degree of energy efficiency and resiliency. Additional sources of renewable energy include photovoltaics and solar hot water systems to supplement the main power system.
Green space and permeable materials will retain rainwater onsite, reduce runoff, and facilitate absorption to help replenish groundwater resources. Stormwater is captured and recycled from rooftops and plazas, then channeled to landscaped "sponge parks" along the district's edges to irrigate the plantings and recharge the natural aquifer beneath the city.
---
Transit-oriented design
Finally, the development's integration with the metro transit system greatly reduces vehicle emissions and the associated carbon footprint. This transit connection will alleviate traffic and provide convenient access to the offices, residences, hotels, and retail shops throughout the development.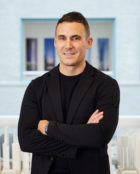 "Bangkok is one of the world's most dynamic, energetic cities, with an exceptionally vibrant street life. Our vision for One Bangkok seeks to capture that energy, extending the vitality of the city's streets through the district and then upward, weaving green, outdoor spaces into the fabric of the towers as they rise."