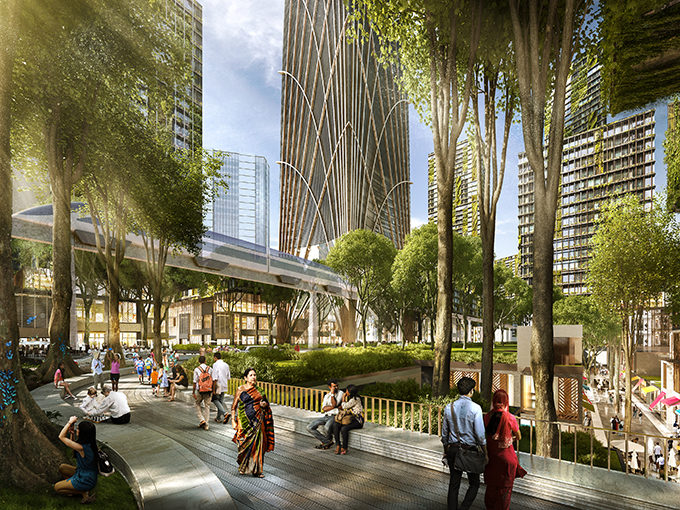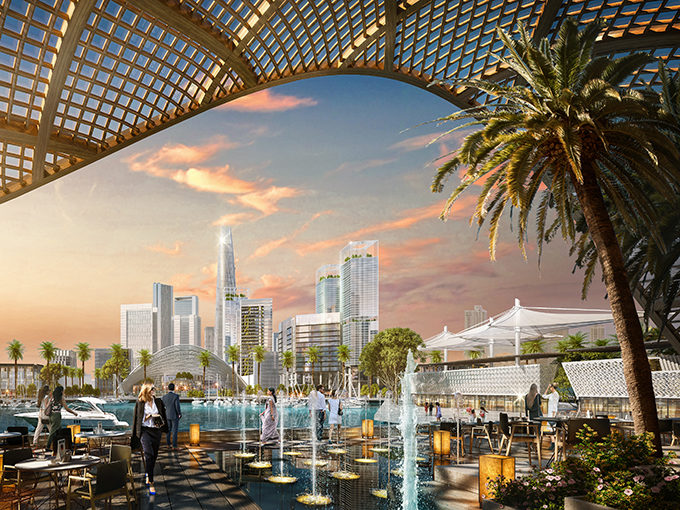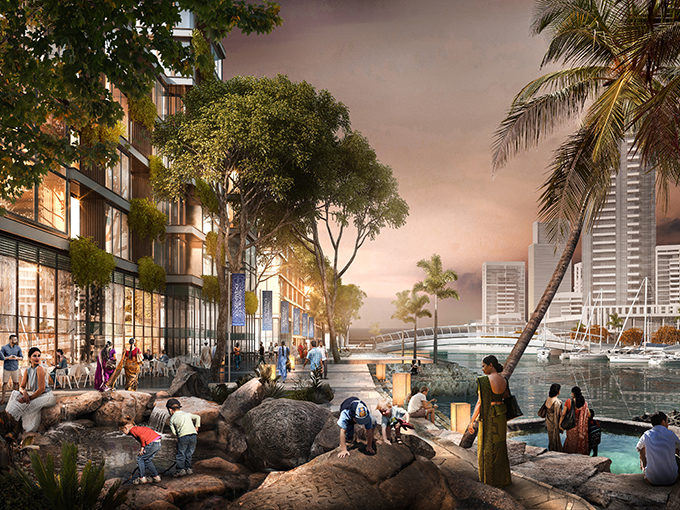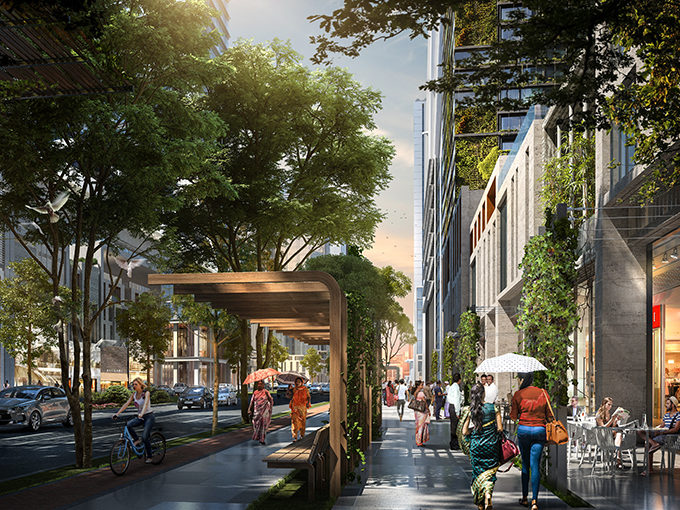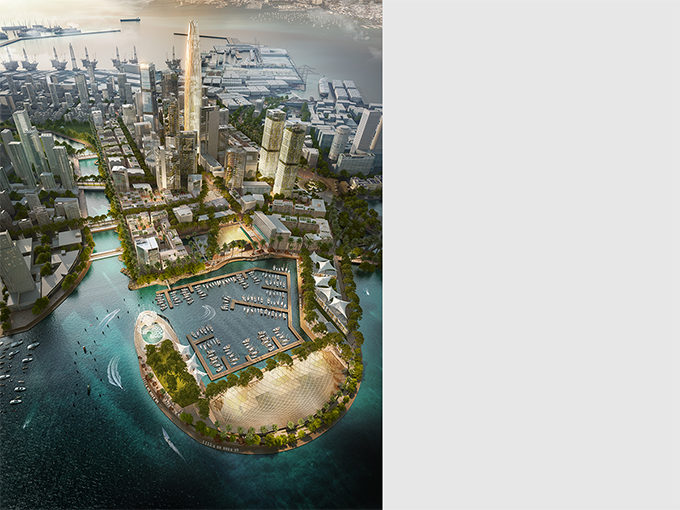 CHEC Port City Colombo (Pvt) Limited (CPCC) announced today that Skidmore, Owings & Merrill LLP—the internationally renowned architecture, interior design, engineering, and urban planning firm—has won the International Urban Design Ideas Competition held for the Financial District and Marina District of Port City Colombo. This competition was conducted by CHEC Port City Colombo (Pvt) Ltd. according to the guidelines of the UIA International Design Competitions—interpreting and implementing the UNESCO "Standard Regulations for International Competitions in Architecture and Town Planning."
Comprising 269 hectares, Port City Colombo is a new city development built as an extension of the existing Colombo Central Business District (CBD). The Financial District and Marina District make up the central area of Port City. When complete in 2041, the master plan will transform Port City Colombo into a hub for commerce, tourism, and culture in South Asia.
A collaboration with CPCC, the Concept Master Plan by SOM, with consulting landscape architects Grant Associates, offers a richness of urban opportunities and a robust framework with carefully designed public spaces. It presents a dynamic new vision for Port City Colombo that promises to deliver high quality urban environments for residents and visitors. The plan is designed to accommodate future growth and change within a sustainable development framework. SOM's vision, selected as the unanimous winner by an international jury, was cited as demonstrating exceptional sensitivity to the ecological and cultural context of Sri Lanka.
In SOM's proposed design, the new skyline for Port City Colombo is composed to create a striking and legible profile with a clear hierarchy when viewed from key points within the city. Sri Lanka's varied landscape and its complex tropical climate have influenced the conception of the future district's public realm. The squares, canal edges, gardens, a new harbor, and a new city park take cues from the local environment to create a sympathetic proposal that is rooted in the country's unique geography and ecology.
The plan refers to the country's diverse eco-system by creating a "Green Heart" and a "Blue Heart" to structure these vibrant future urban districts. Inspired by hanging gardens, the central civic plaza features shaded promenades that encircle a new city marina at the waterfront. The locally resonant design approach is also apparent along the canal edge promenade, where inlets of varying character reference the lagoons of Sri Lanka's rich and articulated coastline.
A new cultural venue placed at the seafront and immediately adjacent to the CBD of Port City Colombo will encourage people to gravitate toward the waterfront and create an iconic backdrop to the marina.
About Skidmore, Owings & Merrill (Europe) LLP
Skidmore, Owings & Merrill (Europe) LLP (SOM) is one of the leading architecture, interior design, engineering, and urban planning firms in the world. Since its founding more than 80 years ago, SOM has earned a reputation for design excellence with a portfolio that includes some of the most important architectural accomplishments of the 20th and 21st centuries, and has been a leader in the research and development of specialized technologies, new processes and innovative ideas, many of which have had a palpable and lasting impact on the design profession and the physical environment. The firm's longstanding leadership in design and building technology has been honored with nearly 2,000 awards for quality, innovation, and management. The American Institute of Architects has recognized SOM twice with its highest honor, the Architecture Firm Award—in 1962 and again in 1996. The firm maintains offices in New York, Chicago, San Francisco, Los Angeles, Washington, D.C., London, Hong Kong, Shanghai, Dubai, and Mumbai.
About CHEC Port City Colombo (Pvt) Limited
CHEC Port City Colombo (Pvt) Ltd through China Harbour Engineering Company (CHEC) is part of China Communications Construction Company Limited (CCCC). Incorporated in 2006, CCCC is listed on the Hong Kong Stock Exchange and currently employs over 110,000 employees, with presence in 135 countries and regions. CCCC is the world leader in port design and construction, road and bridge design and construction, dredging, and container crane and heavy machinery manufacturing. In addition, CCCC is also vastly experienced in building construction and is a major real estate investor and developer.
For the financial year ending December 2015, CCCC recorded a revenue of US$ 67.7 billion with total assets of US$ 140 billion. CCCC was ranked 110th among Fortune 500 companies in 2016 and ranked third on ENR's Top International Contractors in 2016. Among the illustrious accomplishments, CCCC is proud that we designed five out of 10 of the world's largest container terminals and cross-sea bridges. CCCC has been actively involved with the development of Sri Lanka since 1998, executing massive construction projects, such as the Southern Highway, Outer Circular Highway, Hambantota Port, Mattala International Airport, Colombo South Container Terminal and many other major infrastructure projects.