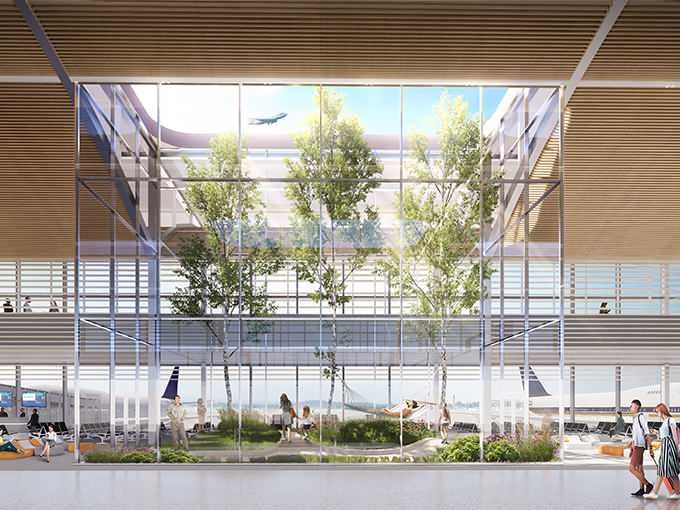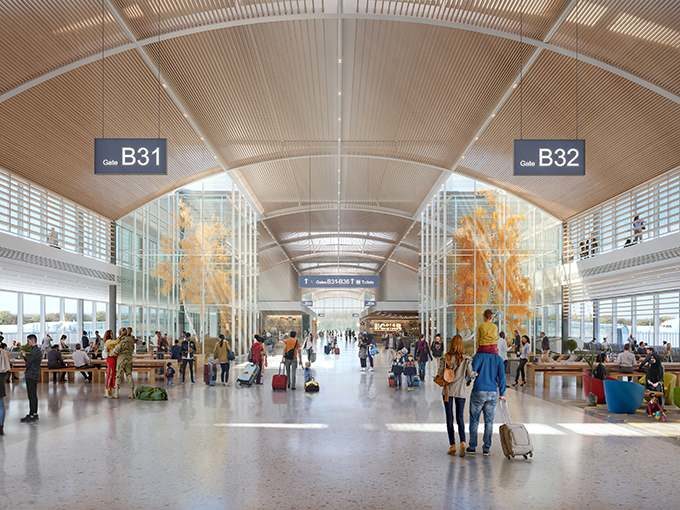 The City of Chicago has named a team led by Skidmore, Owings & Merrill LLP (SOM) to design two new satellite concourses, comprising 1.2 million square feet, at O'Hare International Airport. The concourses form part of the O'Hare Global Terminal, a major phase of the O'Hare 21 Program, a historic plan that seeks to transform the airport campus through its largest ever terminal area expansion and revitalization. SOM will work closely with Studio ORD, the design team leading the O'Hare Global Terminal project.
"We're excited to participate in the transformation of O'Hare. As one of the busiest airports in the world, passenger experience is paramount, and we're proud to have the opportunity to bring home our design expertise in realizing some of the world's most innovative airports." said SOM Design Partner Scott Duncan. "Working with our talented team in partnership with Jeanne Gang and Studio ORD, we look forward to creating a vibrant, sustainable, and people-focused hub for Chicago."
"SOM and our team are honored to have been selected to lead the design of the satellite concourses at the O'Hare Global Terminal. As a Chicago-based team with global expertise in aviation, we are proud to play a vital role in shaping the gateway to our city," said Jonathan Stein, SOM Managing Partner. "We look forward to collaborating with our partners, the City of Chicago, and the Department of Aviation on this exciting project."
SOM's design proposal reimagines the concourse experience, with a focus on creating opportunities for rest and relaxation. The design doubles the width of the typical passenger concourse at O'Hare while incorporating nature and daylight to enhance the passenger experience. Tree-lined gardens open to the sky, infusing the concourse with greenery and allowing passengers to go outside while remaining within the secure zone.
Designed to provide for the needs of all O'Hare travelers, the concourses incorporate a variety of spaces for work and play, including enclosed and open-air children's spaces, workspaces, and family areas. Through filtration of natural and artificial light and strategic acoustic design, the concourse spaces optimize circadian rhythm for domestic and international travelers, enhancing comfort for all passengers. Blending passenger experience with operational efficiency, the design will bolster operations for the O'Hare Global Terminal, introducing the best of global airport amenities to O'Hare.
The concourses will break ground in 2022 and will be phased in conjunction with the O'Hare Global Terminal to allow continuous airport operations on the O'Hare Campus. The concourse project is budgeted to cost $1.4 billion and will be funded through airport revenues.
More than one billion people travel through airports designed by the SOM O'Hare team, every year. SOM has designed some of the world's most innovative airports, including Changi International Airport – Terminal 3 in Singapore, Chhatrapati Shivaji International Airport – Terminal 2 in Mumbai, the International Terminal at San Francisco International Airport, and Toronto Pearson International Airport – Terminal 1.
About Skidmore, Owings & Merrill LLP
Skidmore, Owings & Merrill (SOM) is an influential collective of architects, designers, engineers and planners, responsible for some of the world's most technically and environmentally advanced buildings, and significant public spaces. From a strategic regional plan to a single piece of furniture, SOM's designs anticipate change in the way we live, work and communicate, and have brought lasting value to communities around the world. The firm's approach is highly collaborative, and its interdisciplinary team is engaged on a wide range of international projects, with creative studios based across the globe.
About the Chicago Department of Aviation
The Chicago Department of Aviation (CDA) is self-supporting, using no local or state tax dollars for operations or capital improvements at O'Hare and Midway International Airports. Chicago's airports offer service to over 260 nonstop destinations worldwide, including 47 foreign countries, combined. Together, Chicago's airports serve more than 100 million passengers each year, and generate approximately $60 billion in annual economic activity for the region.