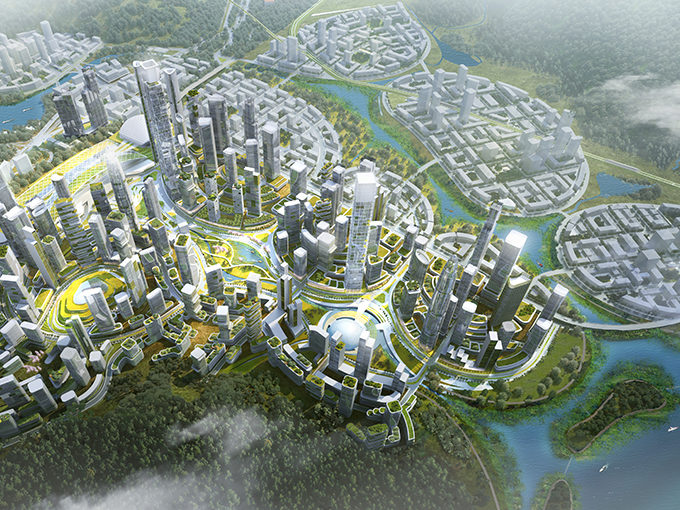 Skidmore, Owings & Merrill LLP (SOM) has announced their recent collaboration with National Geographic in envisioning "Cities of the Future" as part of the magazine's upcoming issue focused on global urbanization.
Drawing on inspiration from SOM's extensive research and urban planning precedents around the world, "Cities of the Future" addresses urbanization in the year 2050, when the global population is expected to reach 9.8 billion. The project is designed around several key principles, including conservation of ecological resources, dense settlement patterns, and livability and social equity.
The project was led by Peter Kindel, SOM's California-based City Design Practice Director, and supported by a group of interdisciplinary designers from multiple SOM offices. The team went through a process they refer to as "Now & Next," where current urban design concepts are evaluated and then reimagined for the year 2050.
"SOM is constantly seeking ways to create better cities and places for people and the environment," said Kindel. "Teaming with National Geographic allowed us to utilize our findings and illustrate issues of urbanization in a comprehensible way."
Detailed concepts and graphics were developed by several SOM team members, including Nadia Conceicao, Saki Mizuguchi, James Kirkpatrick, Michael Powell, Tanli Liu, and Zi Yi Chen, among others.
"We believe existing and future cities can adopt many of these ideas," said SOM Partner Carrie Byles. "As cities confront the urgent challenges of population growth and climate change, we hope this collaboration can lead to a greater focus on rethinking infrastructure, resources, technology, and transportation for the future."
About Skidmore, Owings & Merrill LLP (SOM)
Skidmore, Owings & Merrill LLP (SOM) is one of the leading architecture, interior design, engineering, and urban planning firms in the world. Since its founding more than 80 years ago, SOM has earned a reputation for design excellence with a portfolio that includes some of the most important architectural accomplishments of the 20th and 21st centuries. It has been a leader in the research and development of specialized technologies, new processes, and innovative ideas, many of which have had a palpable and lasting impact on the design profession and physical environment. The firm's longstanding leadership in design and building technology has been honored with nearly 2,000 awards for quality, innovation, and management. The American Institute of Architects has recognized SOM twice with its highest honor—the Architecture Firm Award—in 1962 and again in 1996. The firm maintains offices in New York, Chicago, San Francisco, Los Angeles, Washington, D.C., Seattle, London, Hong Kong, Shanghai, Dubai, and Mumbai.