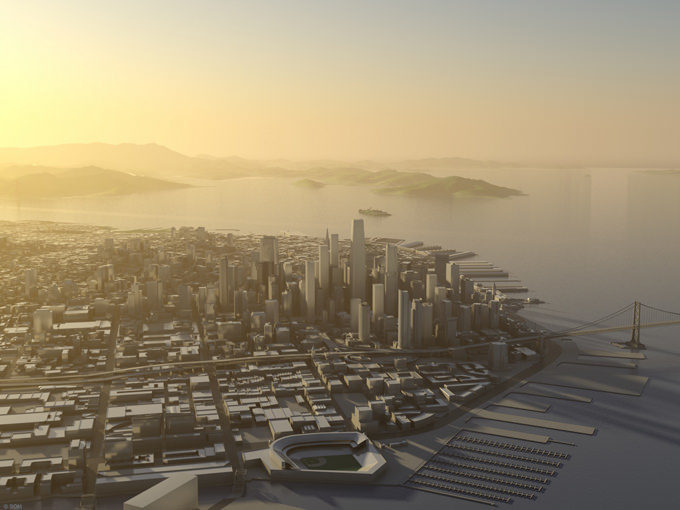 The Environmental Analysis Tool™ (EA Tool™) is an application developed by SOM that estimates the equivalent carbon dioxide emissions for structures of various building types with consideration of initial construction, service life, repair after hazardous events, and deconstruction. Architects, engineers, developers, building owners, contractors, and students can utilize the EA Tool™ for research purposes. The EA Tool™ can be used to evaluate and assess the implications of new construction, retrofit construction, and existing structures.
The program analyzes metrics such as gross floor area, number of stories, material type and quantity, location, seismicity, and wind. With this basic data input, the EA Tool™ can estimate equivalent carbon emissions embodied in a structure. This calculation can be conducted at any phase of design, including the conceptual design phase, and is facilitated by SOM's advanced material quantity estimation algorithm generated from hundreds of previously designed SOM projects. Project-specific inputs can override all parameters as projects progress through final design and construction.
The EA Tool™ evaluates estimated carbon for building structures, performs a cost-benefit analysis of enhanced structural systems, and estimates damage expected over a building's service life.
Estimated carbon is considered for the structure only with the tool evaluating material, construction, and potential life-cycle seismic damage. When desired, the program can consider the benefit of enhanced seismic systems such as base isolation, damping systems, and Pin-Fuse® systems. Cost-benefit analysis is used to estimate potential cost-savings and return on initial investment considering the structures expected service life.
To encourage a dialogue in the building industry and to continue to circulate knowledge procured by the EA Tool™, SOM offers the application and the comprehensive user manual free of charge with the completion of registration (see below).
Register for The Environmental Analysis Tool™
About Skidmore, Owings & Merrill LLP 
Skidmore, Owings & Merrill LLP (SOM) is one of the leading architecture, interior design, engineering, and urban-planning firms in the world, with a 75-year reputation for design excellence and a portfolio that includes some of the most important architectural accomplishments of the 20th and 21st centuries. Since its inception, SOM has been a leader in the research and development of specialized technologies, new processes and innovative ideas, many of which have had a palpable and lasting impact on the design profession and the physical environment. The firm's longstanding leadership in design and building technology has been honored with more than 1,700 awards for quality, innovation, and management. The American Institute of Architects has recognized SOM twice with its highest honor, the Architecture Firm Award—in 1962 and again in 1996. The firm maintains offices inNew York,Chicago,San Francisco,Los Angeles,Washington, D.C.,London, Hong Kong,Shanghai, Mumbai, and Abu Dhabi.