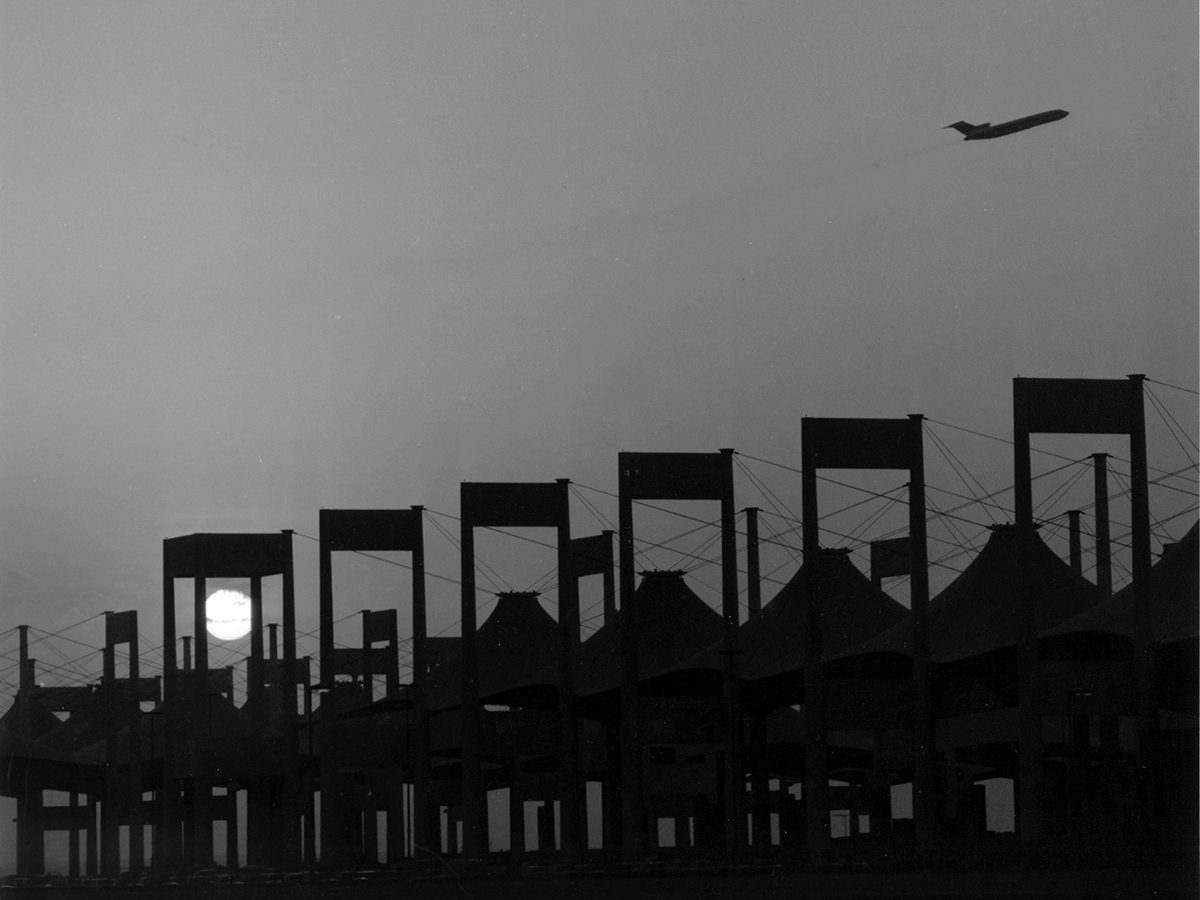 Chicago, IL : Skidmore, Owings & Merrill LLP (SOM) is pleased to announce that the King Abdul Aziz International Airport – Hajj Terminal received the 2010 American Institute of Architects (AIA) Twenty-Five Year award.
The award jury commented, "This project exemplifies the power of a clear idea. With a very simple bay repeated quite beautifully, they set the standard for many airports since….The architects created a highly sustainable project well ahead of the green movement….The terminal presents a sense of place, ecology, economy of means, and culture – not imposing on but learning from the local culture and environment."
Designed by SOM's Chicago and New York offices and completed in 1981, the Hajj Terminal in Jeddah, Saudi Arabia becomes a temporary city for Muslims who decamp from planes and await transportation to the holy cities of Mecca and Medina during the six weeks of the Islamic faith known as Hajj. SOM created a series of tent-like structures beneath which up to 80,000 pilgrims at a time. The 120-acre terminal consists of two identical roofed halves separated by a landscaped central mall. The first half of the terminal contains air conditioned buildings; the second half is a vast, open-sided temperate waiting and support area. The visually arresting Teflon-coated fiberglass roof structure consists of 10 modules of 21 semi-conical fabric roof units. Each module is supported by 147-foot tall steel cables along the rooftop. Nearly 40 million travelers have passed through the Hajj Terminal since its completion.
Jeffrey J. McCarthy, AIA, Partner in SOM's Chicago office commented, "On behalf of all of the SOM partners, we are honored to receive this prestigious award from the AIA. It is an award that we value above all others. However, it is a gift of legacy that we inherit from those that worked before us. We graciously accept this in their honor."
The original team included Gordon Bunshaft, FAIA, Gordon Wildermuth, FAIA, and structural engineer Fazlur Khan.
The AIA Twenty-Five Year award, recognizing architectural design of enduring significance, is conferred on a project that has stood the test of time for 25 to 35 years as an embodiment of architectural excellence. Projects must demonstrate excellence in function – in the distinguished execution of its original program and in the creative aspects of its statement by today's standards.
The Hajj Terminal has also received a 1983 AIA National Honor Award, the 1983 Aga Khan Award for Architecture and a 1981 Progressive Architecture award.
SOM has won four previous Twenty-Five Year awards for the Lever House in New York, the Air Force Academy Cadet Chapel in Colorado Springs, John Hancock Center in Chicago, and the Weyerhaeuser Headquarters in Federal Way, Washington. More information can be found at www.som.com and through AIA at www.aia.org/practicing/awards/aiab082164.
About Skidmore, Owings & Merrill (LLP)
Skidmore, Owings & Merrill LLP (SOM) is one of the leading architecture, urban planning, interior design, and engineering firms in the world, with a 75-year reputation for design excellence and a portfolio that includes some of the most important architectural accomplishments of the 20th and 21st centuries. Since its inception, SOM has been a leader in the research and development of specialized technologies, new processes and innovative ideas, many of which have had a palpable and lasting impact on the design profession and the physical environment. The firm's longstanding leadership in design and building technology has been honored with more than 1,300 awards for quality, innovation, and management. The American Institute of Architects has twice recognized SOM with its highest honor, the Architecture Firm Award—in 1962 and again in 1996. The firm maintains offices in Dubai, Chicago, New York, San Francisco, Washington, D.C., London, Hong Kong, Shanghai, and Brussels.
About The American Institute of Architects (AIA)
For over 150 years, members of the American Institute of Architects have worked with each other and their communities to create more valuable, healthy, secure, and sustainable buildings and cityscapes. By using sustainable design practices, materials, and techniques, AIA architects are uniquely poised to provide the leadership and guidance needed to provide solutions to address climate change. AIA architects walk the walk on sustainable design. Visit www.aia.org/walkthewalk.