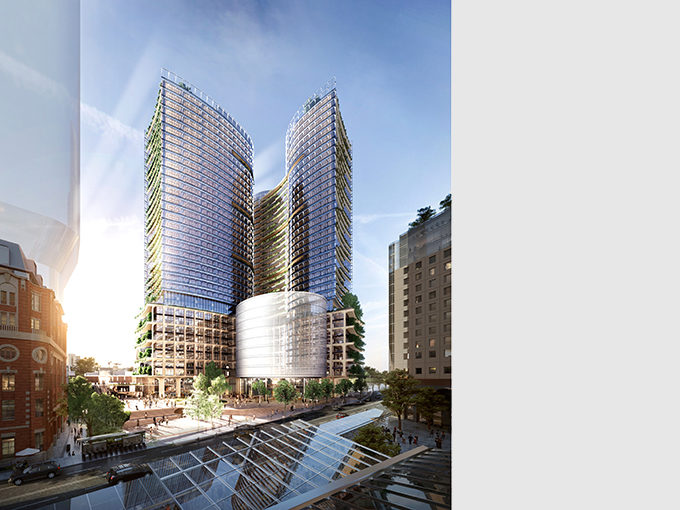 Plans for Central Place Sydney's two towers have been submitted for development approval to the City of Sydney. The $2.5 billion development will position Tech Central as a key driver of innovation and growth in the Asia Pacific region and significantly contribute to large-scale urban change in Sydney. 
Designed by SOM and Fender Katsalidis, the plans include approximately 130,000 square meters of workspace across two premium office towers with rooftop community spaces and vertical gardens, and improved pedestrian amenity and connectivity to Central Station. The project will also introduce a diverse range of retail and dining options, public art, and green spaces.
The buildings are shaped to mitigate wind forces and admit natural light, while the algorithmically-derived sun shades protect the interiors from solar glare and heat gain. A "breathing facade" provides natural ventilation to the interior workspaces.
"By mimicking nature and incorporating biophilic design elements like smart shading and extensive terraces, the tower designs for Central Place Sydney improve energy performance and enhance the wellbeing of those working within," explains Scott Duncan, SOM Design Partner.  
The two commercial towers, 35 and 37 stories tall, are woven together by a low-rise building anchoring the development and enlivening the precinct at street level. The architecture evolved from the overall urban planning strategy: two towers are expressed as three individual forms in order to reduce their visual density. 
"This is an exceptionally significant project for Sydney and the development of Tech Central with the design focusing on connectivity, sustainability and the creation of an ultimate workplace precinct," says Mark Curzon, Fender Katsalidis Director.
The project is being developed by Dexus and Frasers Property Australia.