SOM's specially commissioned installation examines ten themes central to designing permanent habitats in space, as part of the International Exhibition "Unknown Unknowns," opening July 15.
Skidmore, Owings & Merrill (SOM) is presenting one of four specially commissioned installations at the center of the 2022 Triennale Milano International Exhibition. "Unknown Unknowns: An Introduction to Mysteries," which runs from July 15 to December 11, looks beyond the known territory of planet Earth. SOM's installation, titled "Decalogue for Space Architecture," continues a line of inquiry that the firm has pursued through years of research: How can we design the conditions for humans to thrive in outer space?
Curated by Ersilia Vaudo, astrophysicist and Chief Diversity Officer at the European Space Agency, "Unknown Unknowns" will present works by an international range of artists, researchers, and designers. The exhibition will explore themes including the challenges for architecture in light of new prospects, such as how to live in outer space.

"Our installation examines the ways we can make everyday life outside Earth's atmosphere not only possible, but comfortable and joyful," said SOM Partner Colin Koop. "That's a new goal for space architecture. The design has to provide safety from the intense conditions of outer space, operate with the maximum self-sufficiency, and, at the same time, reproduce the environment we're used to on Earth."
While previous space habitats have served short-duration missions, relying on supplies brought from Earth, SOM speculates on ten themes that designers must consider when envisioning a permanent and sustainable presence for humanity in space, untethered to our home planet.
"We strove to highlight ways of thinking about challenges that will confront future space architects without pointing to specific solutions," said SOM Senior Associate Principal Georgi Petrov. "Our goal is to stimulate the visitors' imagination and foster discussion, rather than advocate for any specific design."
SOM collaborated with Dotdotdot, a Milan-based multidisciplinary design studio, to create an audiovisual installation that presents the concepts that should define the next generation of extraterrestrial architecture. Each theme is represented with text, a video animation, and a soundscape created by Dotdotdot in collaboration with propp for the video production. The ten distinct audio tracks are conceived as instruments in a "sound orchestra." As visitors move through the exhibition space, they will experience layered effects of sound and video.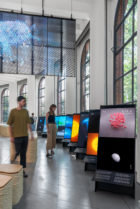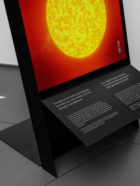 "Decalogue for Space Architecture" builds on knowledge developed through SOM's multiyear partnership with the European Space Agency to design the first permanent human settlement on the Moon—a concept that was presented in Venice at Biennale Architettura 2021. The Moon Village is a bold initiative that brings together experts in the realms of science and design to create an environment in which humans can survive and thrive on the Moon, ultimately providing an opportunity to explore the Moon in its entirety and advance our understanding of the universe.
Founded in 1923, the Triennale Milano International Exhibition is one of the most important events dedicated to architecture and design. It includes both the central themed exhibition and a series of international pavilions, envisioned as a "constellation" of exhibitions and projects throughout the Palazzo dell'Arte. The 2022 exhibition brings together the work of more than 400 artists, designers, architects, and scientists from more than 40 countries.