Spotlight on Renovation and Transformation
It's a bold statement to reimagine the buildings we already have instead of building new – an inherently sustainable approach as we reinvent our cities for the future.

Project
Chicago, Illinois, United States

Project
San Francisco, California, United States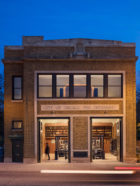 Our Culture
Our studios have no boundaries. When you join SOM, you're part of a global community that shares expertise and ideas.
"SOM attracts the kind of people who make no small plans, who thrive in collaboration, and have the determination to realize their ideas."

Join Us